H.T. or 'HIGH TENSILE' FELTS
To overcome these basic problems, the designers added stronger reinforcement to the felt. Using mainly polyester, which is extremely strong and has the added benefit of resisting piercing. Unfortunately, however strong these materials are, they are limited in their durability
by using a base material from oxidised bitumens, and are therefore still subject to the same deterioration when subjected to huge temperature ranges.
ELASTOMERIC FELTS
The vastly altering building market, left the designers with two main problems to overcome;
1. Designing a material which is truly flexible and retains this flexibility throughout all temperature ranges.
2. Designing a material which has a longer life expectancy and retains the traditional methods
of fixing.
After years of development, it was found that by adding polymers (SBS) to the bitumen in the manufacturing process, this resulted in a felt which is capable of accommodating repeated thermal movement, without any deterioration, and hence the life expectancy of the material is greatly increased.
FIBREGLASS SYSTEMS
For many years the roofing industry has been chasing the dream of using fibreglass as a roof covering. It is perceived as highly durable, with the comparison to boat hulls being testament to its longevity. However the main difference between a boat hull and a flat roof, is its environment.
The hull of a boat spends most of its life under water, in a reasonably limited temperature range, and away from the ultra violet effects of direct sunlight. A roof does not.

FIBREGLASS SYSTEMS continued...
The challenge was therefore to develop special additives in the resin that make it less rigid and therefore more able to cope with the rigours of the climate. Most of our competitors fibreglass system are wet roller applied in situ and rely on accurate site batching of the components by the roofing operatives. This can be of dubious accuracy, especially when you take into account the fact that the key additives are very expensive. Too little additive can cause the roof to literally split open in high temperatures.
We therefore resisted fibreglass systems for many years, until we discovered the "Dryseal system". The key difference between this and wet systems is that it uses pre made sheets and detail components (manufactured under the strict factory controlled environment, by Hambleside-Danelaw, one of the UKs major construction product manufacturers). We simply have to mechanically fix the components in place and apply fibreglass reinforced joints. Once this is done we then apply a polyester solar protective top coat (which can be in different colours and can even have a non slip finish for trafficked areas).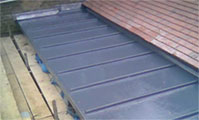 Another common use of our fibreglass systems is in the replacement of lead roofs (above). When fake rolls are applied and it is finished with a grey top coat, it looks very similar to lead, but as it has no scrap value and therefore isn't likely to be stolen.
Click on the Marley logo for more
information on roofing felts.
TRADITIONAL FELTS
Historically, flat roofs were constructed using traditional bitumen based felts (B.S.747)
These felts have very little elasticity, and become brittle with age. This has been made worse over recent years due to the increased use of high insulation materials under these felts, which increases the roof movement through temperature changes.- especially between the hot days of summer, and the recent freezing temperatures of winter.